11/15/2017 12:00 AM Central
Michelle Haman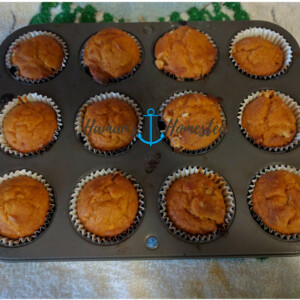 Need a little extra protein in your diet? Try these Pumpkin Muffins, baked with pure pumpkin and protein powder.
YES, I said protein powder.
Being the person who does most of the grocery shopping and 90% of the cooking in the house, I really try to limit the amount of processed food, or junk food.
Now, we are by no means perfect eaters or even extremely healthy eaters. But by gosh, if we are going to foods that are perfect and completely wholesome and fresh, we are preparing from scratch.
Trust me, when I say you eat a lot less junk this way.
You have to really want to put in the time, to reap the reward.
With that being said, I don't typically buy pre-packaged muffin mixes, brownie mixes, or even cake mixes. Again, not because I am super healthy or anything.
This really stemmed from when we were trying to determine what my oldest daughter was allergic to. To determine what the trigger was, we had to remove all foods that weren't fresh, and then gradually add foods back in. NOT FUN.
I have one daughter who loves pumpkin and another who needs protein. So why not mix the two?
White Chocolate Chip Pumpkin Muffin
4 oz Of Unsalted Butter-melted
Preheat oven to 350 degrees
In a medium-sized bowl, mix flour, sugar, protein powder, baking soda, baking powder, and salt together.
In a second bowl mix, eggs, pumpkin, butter, and essential oils.
Mix well then combine wet ingredients with dry ingredients.
Add the desired amount of White Chocolate Chips to the batter and mix well.
Now, scoop batter into lined muffin tins and bake for 18-20 minutes.
Don't be surprised if the muffins disappear fast.
*I have ONLY used Young Living Vitality Essential Oils in this recipe and can not attest to what another brand will taste like, or whether another brand is safe to digest. Read your labels.