07/06/2018 12:00 AM Central
Michelle Haman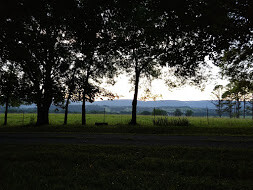 As I was mowing the yard tonight, I saw one of the most beautiful sunsets.
The colors in the sky were breathtaking.
My initial reaction was I will stop on my next go around and snap a picture and just gaze at it.
But because I was racing trying to finish mowing tonight I missed the opportunity.
Not gonna lie, I was a little disappointed.
But then I got to thinking, and that can be a dangerous thing.
How many other things have I missed by always being in a hurry?
How many moments with my kids have I missed?
How many moments have I missed with my husband, friends or family?
The time-lapse was literally close to 1-2 minutes, seriously. And in that short time, the total picture changed.
Time really does go fast!.
And guess what, I didn't finish mowing tonight.
So not only did I miss out on seeing a beautiful sunset, but the job is still not done.
Why am I telling you this?
To remind you to slow down.
Enjoy the moment. Live in the moment.
Time flies and when it is gone, it's gone.
Don't miss out on life by always being in a hurry.
Tell us what moments you feel you have missed out on by being in a hurry?