07/30/2018 12:00 AM Central
Michelle Haman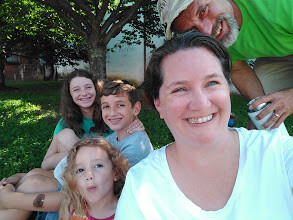 Follow us on our Journey to finding Freedom, Wellness, and Abundance in this crazy thing we call Life.
Be prepared for a lot of Sass, many imperfections and several bumps (some funny some not so funny) along the ride. I am learning that perfection is not only overrated but doesn't even exist. (So STOP trying to be perfect)

👈Daily struggle, for real!
So here is a brief history of our family of 5, 6 if you count the dog.🐕 Let's not even count the fish! My husband and I have been married for 13 years, we both have college degrees, we have 3 children, and we both have well-paying jobs.
I have been fortunate in the fact that since we started our family, I have only worked part-time. With a part-time income, I felt that I needed to help contribute in other ways. So my additional help came in the form of saving us money. I was being frugal/thrifty/cheap whatever you want to call it. I clipped coupons, went to every store that had the sale, had apps that help me save. I was only focused on how much money something would cost me. It didn't matter what we are talking about - shampoo, soaps, cleaners, food - I wanted to get it as cheap as I could. It never occurred to me to think about what was in the products I was buying.
I had this coupon-clipping, money-saving thing going pretty good. And then, 3 years ago, I was introduced to a company through a friend, that changed everything for us. When I say everything, I literally mean everything. Here are just a few things that have changed for us:
Fewer prescription drugs

We are more active

Eat Better quality foods

Avid researcher

We read labels on most products we buy

Closer and a larger circle of friends that is growing by the day.

Happier Relationships!

Clearer Purpose/Minds
One hope I have in sharing our Journey is that it helps you find yourself. Whether that means you seek a healthier lifestyle, change the way you view yourself, choose to be more active, cook more dinners at home, focus on spending quality family time together, or you begin to build your own business. I hope to show you the potential is there and it can be done!
There will be funny stories, many quotes, lots of yummy recipes, and our love for the company that gave it all back to us.
Most of my posts will be short and sweet, I am not into all the fluff. Who am I kidding, I don't have a long enough attention span. 😂😂