11/10/2017 12:00 AM Central
Michelle Haman
In the cooler months, I love to use my crockpot.
Now, I know all the craze right now is on the Instant Pot, but I have never been one to jump on the bandwagon. And, quite frankly I don't care to spend $$ on another pot when I LOVE my crockpot.
But honestly, the Instant Pot is a pressure cooker. You see my mom bought me a pressure cooker years ago and then scared the crap out of me about using it and having things explode while cooking. So needless to say, the pressure cooker is nestled in a comfy spot under my counter.
Now, back to the reason, you started reading this. You want the recipe.
This is a good time to tell you that I don't really measure things. I eyeball a lot and season to taste really.
For instance, we like garlic, so I usually add more garlic to everything I cook.
SIDE NOTE--- GARLIC CAN HELP SUPPORT YOUR IMMUNE SYSTEM!!!
A roast about 2 lbs (Chuck, London Broil, Bottom Round)
I rub the dry seasonings on the roast and let the roast rest for a few minutes. In the meantime, I mixed my Avocado oil and Vitality oils together in a small glass bowl. Once I felt all my oils were well mixed, I poured the oils over my roast and rubbed the oils into the meat.
I turn on my crockpot and program it to cook for about 8 hours on low, while we are at work/school.
That is it,
folks. It was simple and delicious.
Basketball games and after-school activities make for late nights and no time to cook.
Need to make it a complete meal?
Add some Potatoes to the bottom, check out that recipe below.
6 Yukon Gold Potatoes, or potatoes of your choice,
1/3 cup Avocado Oil (roughly)
Cut the potatoes and onions into bite-size pieces.
Mix all ingredients together and then toss the potatoes and onions in the oil. ( I use my crockpot for this step. One less dish to clean.)
Put the potatoes on the bottom of the crockpot, followed by the roast on top and dinner is cooking, and all in one dish!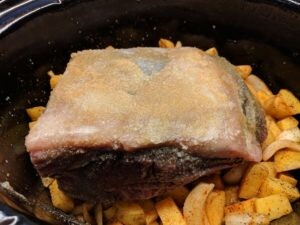 If you need a little something sweet, cut up fresh pineapple into small pieces and add that to the table, and dinner will be a hit!