04/21/2020 01:00 PM Central
Michelle Haman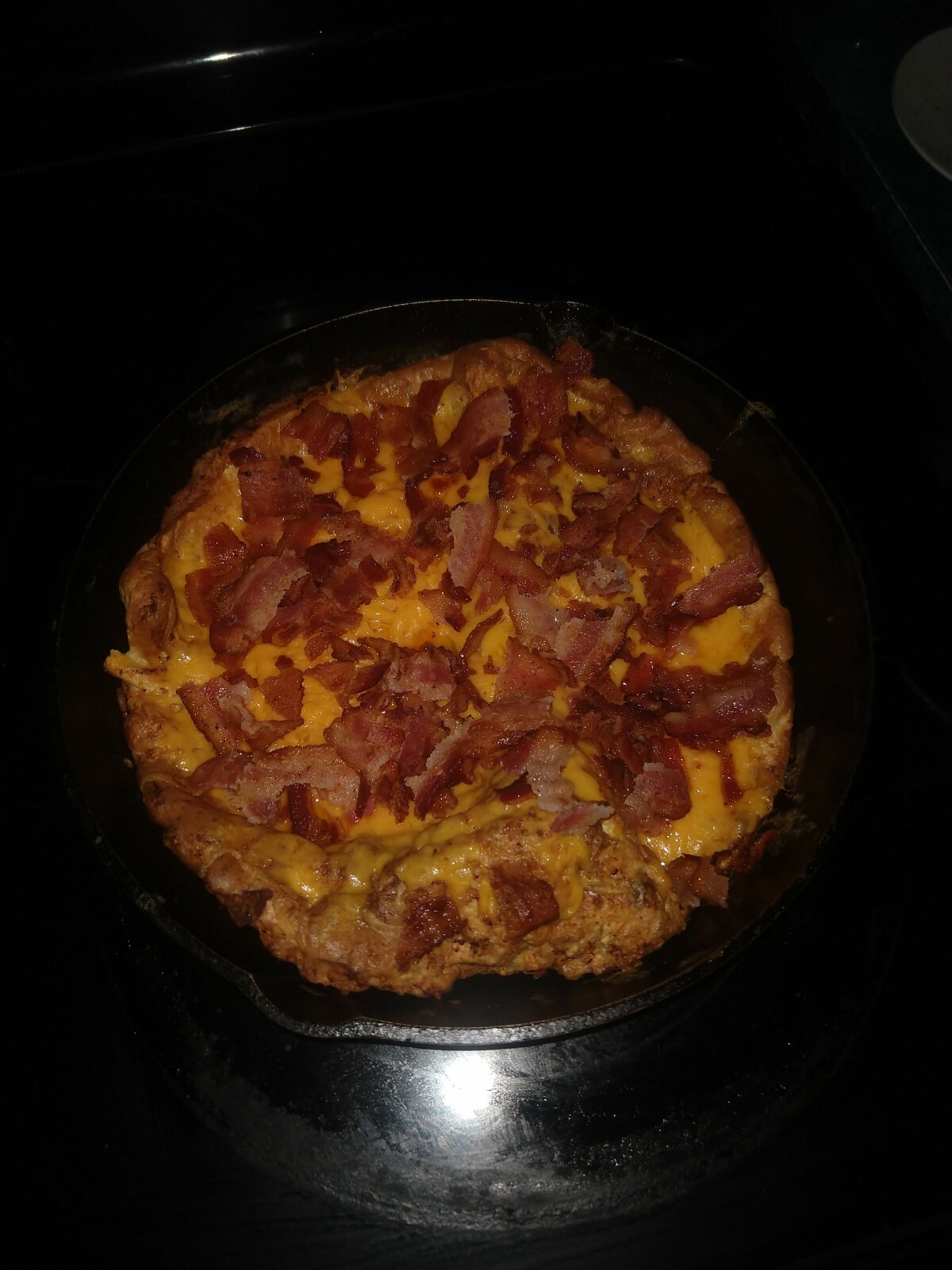 Eggs and Bacon are getting a little boring.
After we tried our first quiche a couple of weeks ago my children were ready to try another new recipe.
I came across a recipe in a Southern Living Magazine a LONG time ago. At the time the recipe looked interesting so I tore it out for us to make one day. Well, the day came. At it was delish! It was also simple to make and pretty quick.
4 pieces of thick-cut Bacon OR any bacon
3 Large Eggs at room temperature
1/2 cup whole milk at room temperature
1/2 cup all-purpose flour
1 tablespoon unsalted butter
1/2 teaspoon Black Pepper
1 Cup Sharp Cheddar Cheese
1 tablespoon finely chopped Chives-optional
Now for the magic:
Heat your oven to 425 degrees.
While your oven is preheating, in a cast-iron skillet fry your bacon.
In the meantime, in a bowl mix together your eggs, milk, flour, melted butter, salt, and pepper. Mix well. You are looking for a nice smooth batter.
When your bacon is done remove from skillet. Leave about 1 to 2 tablespoons of bacon fat in your cast iron skillet. Go ahead and chop your bacon up into bite-size pieces and set them off to the side.
Your skillet should still be hot, so go ahead and pour your egg mixture into the skillet. Bake for 18 to 20 minutes. Do not open the oven while your pancake is cooking. You are watching for the pancake to puff up and turn golden brown.
Remove your pancake from the oven, sprinkle your cheese over top of your pancake. Then stick your skillet back in the oven for a few minutes. You are really just trying to melt the cheese. Watch closely, do not let it burn.
Once your cheese is melted to your liking remove the skillet from the oven and sprinkle your bacon and chives across the top. Serve immediately. Just be careful it is HOT!
I personally like this more than our quiche. I can definitely see us making this recipe again.
What other food combinations do you think would work with this dish?
*Recipe was originally seen in Southern Living Magazine--September 2019 Edition