02/21/2018 12:00 AM Central
Michelle Haman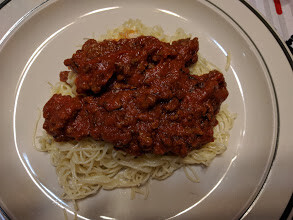 If you ask my kids "What do you want for dinner" be prepared to eat spaghetti every night.
Now, I don't know about you, but spaghetti gets old. I never thought I would say those words.
I can handle eating spaghetti about once a week. Once every two weeks is better.
Growing up I thought my Granny made the best Spaghetti, So every time we visited her Spaghetti was for dinner.
Even as an adult, when I would make our monthly trips with the little ones to spend the day with her she always wanted to cook spaghetti.
I suppose that was where our LOVE for Spaghetti came from.
After reading the labels on the back of a spaghetti sauce jar one day, I decided I wasn't going to buy spaghetti sauce anymore.
Not really sure why I decided to read it, or what was on the label that disturbed me. BUT whatever it was I am so glad I made the switch.
Homemade Spaghetti Sauce is so much better than any prepared sauce I have ever bought.
The cost of making our own Spaghetti Sauce is a fraction of the cost.
The time it takes to make your own spaghetti sauce really isn't any longer than opening a jar since I always had to "doctor" the jar sauce anyways.
So, go grab a few ingredients and make some spaghetti tonight.
Spaghetti Sauce
1 29 OZ Can of Hunt's Tomato Sauce
1 14 OZ Can of Hunt's Petite Diced Tomatoes
1-2 tsp Garlic Powder
1-2 tsp Onion Powder
1-2 Tbsp Parsley
1Tbsp Olive Oil
Add the 2 cans of Hunt's Tomatoes to a pan.
Turn the heat on the stove to medium.
Add the Garlic Powder and Onion Powder to the sauce and stir.
Next, add the Parsley to the sauce, I like to see a lot of green.
After that, you need to add your Olive Oil to a spoon or small bowl and drop all of your Vitality Oils into the Olive Oil.
Swirl the oils around for a second to make sure the oils have blended together then add the mixture to your spaghetti sauce.
Now all you need to do is let the sauce simmer and add any more Garlic Powder, Onion Powder, or Parsley to your taste.
Let me know how your sauce turned out.
Do you need to order your Vitality Oils?
Click Here