09/11/2017 12:00 AM Central
Michelle Haman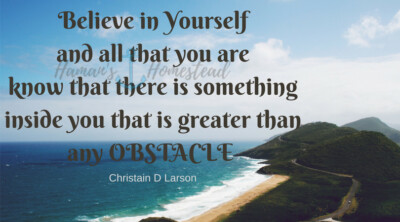 I believe that one of the single most important factors a successful person has is the belief in themself. Without the belief in yourself, there can be no foundation for anything positive to build upon. Hence a huge stumbling block.
If you can not believe in yourself it is extremely difficult for other people to believe in you. This basic thought goes back to Abe Lincoln, followed by Zig Ziegler, all the way to Tony Robbins in today's time, who have discussed this topic extensively for the foundation of success.
So what makes it so hard for us to believe in our self? Our surroundings.
Here are a few ideas on how to work on believing in yourself.
Find a quote that you love and inspires you
Post it wherever you spent time, you want to see it often.
Know that you were created for greatness
Be wise of the shows you watch on TV
Surround yourself with positive people
Read anything that is uplifting/Spiritual
Move out of your comfort zone
Know that you are worthy
Find your spark/passion
Listen to uplifting music
Read the Bible
For me, I took the challenge to my friends. I asked them to describe me in 3 words. I then took those words and wrote them on a piece of paper. I hung that paper on my desk so when I am working, and start to get discouraged or want to give up, I can see the words that my friends use to describe me. I then am able to push the negative thoughts out of my mind and focus on the positive qualities that I have.
Tell me, what is your favorite quote?