10/31/2017 12:00 AM Central
Michelle Haman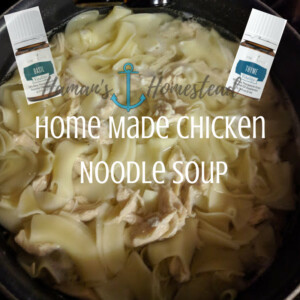 Nothing is quite as good as some good 'ole Chicken Noodle Soup when you are under the weather.
As the season is finally changing over from Summer to Fall, we, of course, have an allergy problem.
We have the diffuser going constantly with our seasonal support blend, and I am rubbing my youngest down with oils as fast as I can.
But her appetite is just not there. I know she needs to eat and I really don't want her to get dehydrated, but finding something that she will eat is DIFFICULT. She is a little stubborn, and I am not sure where she got that trait from.
So, I went to my trusty Chicken Noodle Soup recipe, and it did the trick.
I figured even if she didn't eat the chicken or the noodles at least the broth would soothe her.
Needless to say, she didn't finish her entire bowl, but she did make a huge dent in it.
Chicken Noodle Soup
24-32 OZ of Homemade Chicken Broth
2 teaspoons Garlic Powder
I boiled the chicken until it is cooked and then shredded it.
**I did strain some of the broth from this batch of chicken and added it to the soup.
If you need a quick version, you can totally buy a rotisserie chicken and use that.
What is your favorite go-to soup when you are down?