01/31/2018 12:00 AM Central
Michelle Haman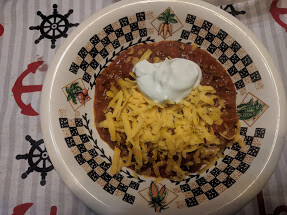 On a cold afternoon, there is nothing like a warm bowl of soup or chili to warm you up.
Before I begin, let me say that if you aren't already making your own beans, jump on it, they are super easy to make and taste so much better than canned beans.
If you don't know how to cook dried beans check out my blog post where I show you how.
1 Quart Jar of Pinto Beans
1 Quart Jar of Kidney Beans
1 29 OZ Can of Hunt's Tomato Sauce
2 cans of Rotel Tomatoes OR
2 cans of Hunt's Diced Tomatoes
1 ½ tea Pink Himalayan Salt
1 drop Oregano Vitality Oil
1 drop Black Pepper Vitaliy Oil
I usually use my dutch oven pot to cook my chili in. I can cook everything in one pot, which means LESS CLEAN UP!
Fry ground beef, I usually add my onion at this point. Once your ground beef is cooked drain the fat.
In the same pot add the beans, the tomatoes, and the tomato sauce. While the chili is starting to simmer add all the spices above.
Allow this to simmer for about 15 to 20 minutes or until well heated.
When you are ready to eat, pour some chili in a bowl and add any additional toppings. I like cheese and sour cream on mine. Don't forget the crackers or chips!
Now sit back, warm up, and enjoy!