08/28/2019 01:00 AM Central
Michelle Haman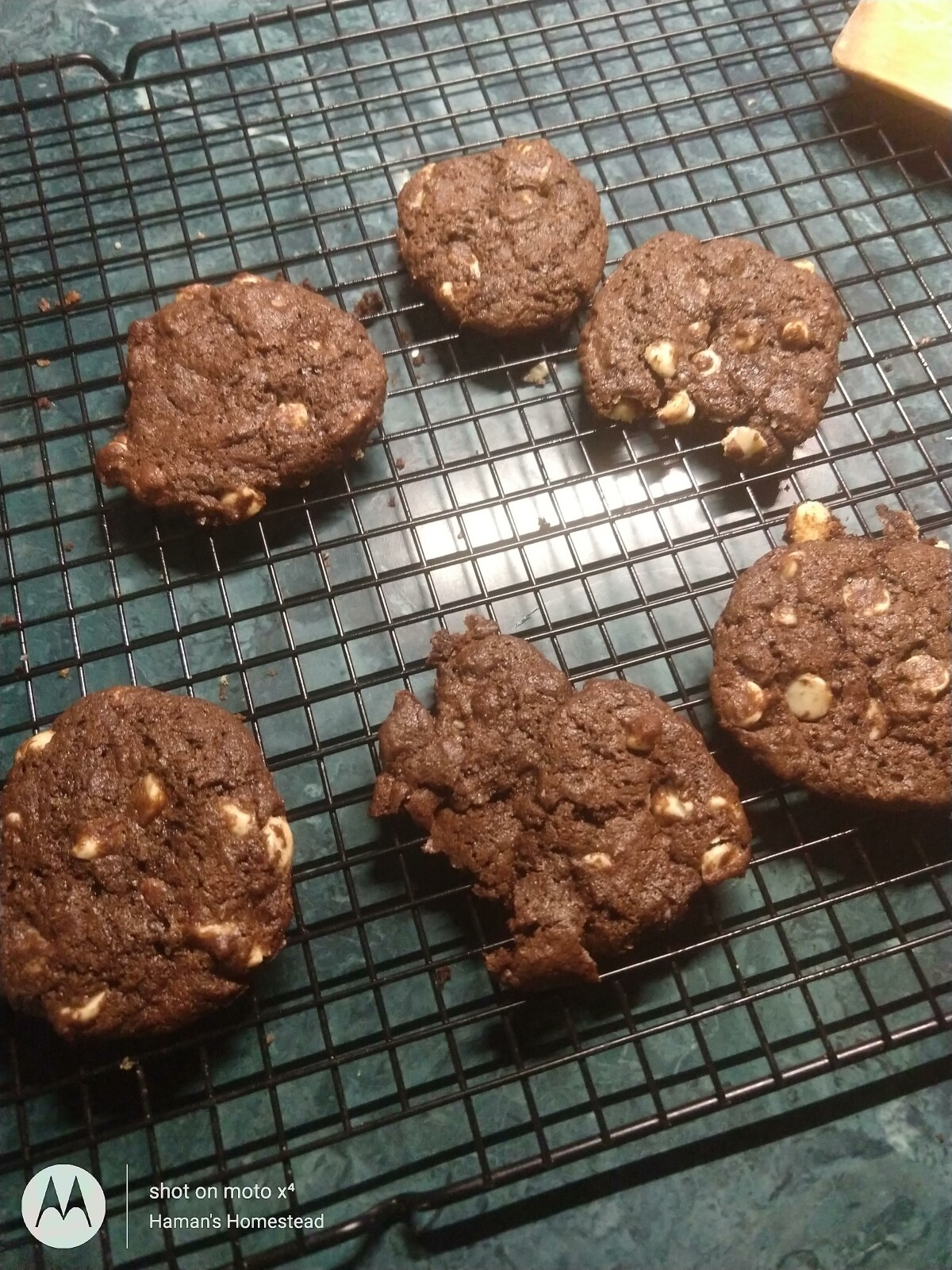 I don't know about you but in my house, we need all the greens we can get. Since starting our health journey I definitely add more greens to the table.
However, in my new newfound humble opinion, I have to wonder if we can ever really eat enough greens. Especially at the early start of changing a diet.
Here is where sneaky mom comes in. I heard of people adding Kale to their Chocolate Smoothies and Protein Shakes so I thought why not add Kale to chocolate chip cookies.
Now being the smart mom that I am. I knew no matter how fine I chopped the Kale up my kids would spot it. Most likely resulting in the refusal to try the darn cookie much less eat the whole dang cookie.
I used white chocolate chips. Since the actual cookie is chocolate the green Kale would be totally masked. Side note there is nothing saying you can not use regular chocolate chips to make these cookies.
My kids are just overly suspicious. We have never made double chocolate chips cookies. (I will be taking care of that dilemma very soon.) So I stuck with white chocolate chips.
Without further ado here is the recipe.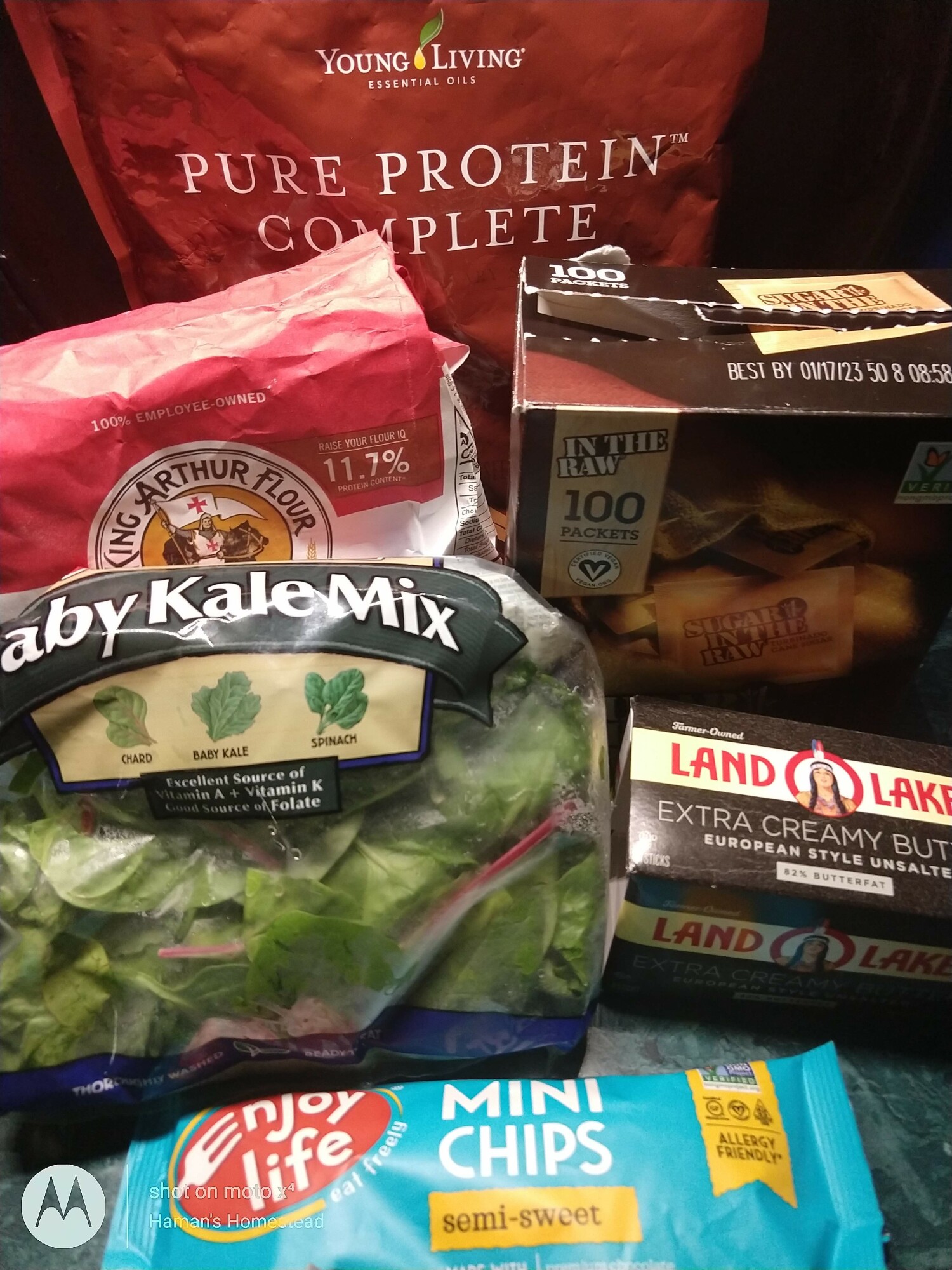 Chocolate Chips Cookie with a side of Kale
2 cups all-purpose flour*
1/4 cup Chocolate Protein Powder*
1 teaspoon baking soda
1 teaspoon salt
1 cup (2 sticks) butter, softened
3/4 cup sugar*
3/4 cup packed brown sugar
1 teaspoon vanilla extract
2 large eggs
1-2 Cups Kale- Chopped fine
1 package of Chocolate Chips
Preheat oven to 375 degrees.
Beat butter, sugar, brown sugar, vanilla extract, and Kale in large mixer bowl until creamy. I add all my eggs at one time and mix. But the proper way would be at one egg at a time.
At this point, I just dump the salt, baking soda, protein powder, and a little flour into the butter mixture and mix. (add the flour gradually) Again the proper way would be to measure these ingredients out, mix them together and gradually add the flour mixture to the butter mixture. But who has time for that?
Don't forget to add your chocolate chips. You can even add some nuts for more fat and proteins. I have never tried adding nuts as our daughter as a nut allergy but it sounds yummy.
If you used the protein powder you are going to have a super thick batter. Almost like brownies. So I just do drop cookies. Using a spoon I drop a decent amount of cookie batter onto my cookie sheet and then throw the pan in the oven. Bake cookies for 9-15 minutes.
If you omitted the protein powder you will have a cookie batter that you are used to. So roll the batter into small balls, place them on a cookie sheet, then pop them in the oven for 9-12 minutes.
Enjoy. These cookies are best served warm.
*Flour, I prefer to use King Arthur's All-Purpose
*Protein powder, I only use Young Living's Chocolate Protein Powder. I think we can all use more protein in the diet. You can omit this ingredient, just add an additional 1/4 cup of flour.
*Sugar- you can use any sugar you like. White Granulated Sugar, Stevia however I used Sugar in the Raw